FastRawViewer 1.4.11 Release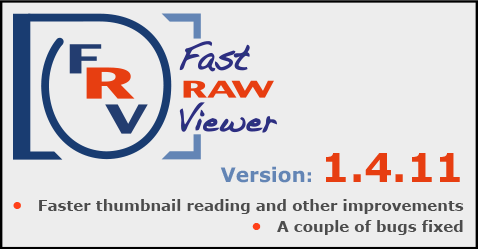 Improvements
Faster thumbnail reading, especially on slow media/WiFi
Run program/Pass image in main menu/context menus has been reworked:
removed 'Run Program 1', 'Run Program 2' menu items
[Setup external programs] menu item will appear if fewer than 3 external programs are configured.
New setting: Folders panel - gear menu - Show horizontal scrollbar.

Enabled by default. When disabled, completely disables horizontal scrolling in Folders panel.
(Windows only) New Preferences setting: Interface - Set the main menubar colors to match the main window.
(Windows only) A warning is issued if 'pass image to external program' requires privilege escalation.
Thumbnail grid was displayed incorrectly if thumbnail size was changed in fullscreen mode.
Bugs fixed
WB presets handling for some Canon cameras was broken (5DmkIII and 5DmkIV were affected)
Lens ID data was incorrectly parsed for some camera/lens combinations.
EXIF data display above thumbnails was positioned incorrectly for large thumbnail sizes.
Grid/Filmstrip text font size was selected incorrectly on large thumbnial size decrease (e.g. 800 pix - 200pix).
Download links
Please use this site download page.