Download FastRawViewer
---
FastRawViewer 2.0
This is a major version upgrade
Update policy:
If you bought FastRawViewer after July 25, 2021 or if you have already upgraded to FastRawViewer v2 then all FastRawViewer v2 updates are free for you. Just download and install them.
Upgrade policy:
If you bought FastRawViewer v. 1.x after January 20, 2021, then a free upgrade is available for you.
If you bought FastRawViewer v. 1.x before January 20, 2021, then you can upgrade with 40% off the regular price (can't be combined with other discounts).
Please note: the hardware and OS requirements for FastRawViewer v. 2 have been changed compared to FastRawViewer v. 1
Please read the new version's hardware and OS requirements.
Use the upgrade tool to get your new license key or upgrade discount coupon.
If you have FastRawViewer v. 1.x installed, then you have a 60-day trial period to see if you need an upgrade to FastRawViewer v. 2. and/or to check if the hardware and OS you are using are supported.
Please "try before you buy an upgrade"!
FastRawViewer v. 1.x is not supported starting February 01, 2022. Downloads are available, licenses are still valid (and will be valid forever), but no plans for adding new cameras or new features; bugfixes are not guaranteed.
Download Links
FastRawViewer V2 Changelog links
---
FastRawViewer 1.7.8
This FastRawViewer v. 1.x update includes support for the latest (as of the time of writing this) cameras. It is suggested for users whose computers or operating systems are not powerful enough to support FastRawViewer v. 2.
The update is FREE for all registered users!
Licensing: both FastRawViewer v. 1.x and v. 2 License keys are valid for FastRawViewer 1.7.5-1.7.8
Download Links
---
Quick-Start Resources
Use this to acclimate yourself to the interface, tools (RAW histogram and statistics, over- and underexposure indication, focus peaking, exposure correction, white balance, ratings, labels, titles, descriptions etc), Preferences, file handling and navigation, and get an idea as to how to customize the FRV setup for your preferred workflow.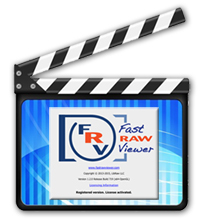 Workflow Tutorial
Below are several resources that can be used to acquaint oneself with the RAW workflow that we have developed, integrating FastRawViewer into a process that starts at the memory card and goes up to the RAW converter.
They can also help one recognize and analyze operator errors so as to improve shooting discipline.