Download FastRawViewer
FastRawViewer 1.4
The update is FREE for all registered users!
See What's new and changed below
Download Links
for Mac OS X/macOS (10.6-10.14)
for Windows 7 - Windows 10
For Windows XP (SP3) - Windows Vista
User Manual

There is a single FastRawViewer Manual (in pdf format) for both Windows and Mac OS X versions (the manual comes with the installation, too).
Quick-Start Resources
Use this to acclimate yourself to the interface, tools (RAW histogram and statistics, over- and underexposure indication, focus peaking, exposure correction, white balance, ratings, labels, titles, descriptions etc), Preferences, file handling and navigation, and get an idea as to how to customize the FRV setup for your preferred workflow.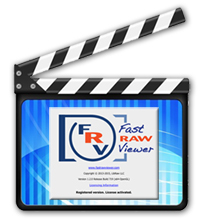 Workflow Tutorial
Below are several resources that can be used to acquaint oneself with the RAW workflow that we have developed, integrating FastRawViewer into a process that starts at the memory card and goes up to the RAW converter.
They can also help one recognize and analyze operator errors so as to improve shooting discipline.
---
System Requirements
for Mac OS X
FastRawViewer for Mac OS X requires any Intel-based Mac (excluding very old 2005-2006 models based on 32-bit CPUs:  Core Duo and Core Solo) with Mac OS X 10.6+ installed. We recommend a video card with OpenGL 2.1 support (that's every native Mac video card that works with OS X 10.6). An OpenGL emulator will be used if such a video card is not present in the system; some of the advanced features of FastRawViewer will take significant time to render without hardware support for OpenGL.
for Windows
FastRawViewer for Windows requires a computer with SSE3-compatible CPU (that is, manufactured after 2004) and not-so-ancient video card. It works on a variety of 32/64 bit Windows platforms: XP, Vista, 7, 8, 8.1,10 (we suggest Windows 8.1/64-bit or Windows 10/64-bit).
FastRawViewer for Windows uses hardware graphics acceleration:
Graphics based on Microsoft DirectX: DirectX 9.0 is required, DirectX 9.0c support or later is recommended
Graphics based on OpenGL - requires a video card with at least OpenGL 2.1 support.
If Your Browsing Speed is Low,
or You are Experiencing Graphics Issues
If you are experiencing sluggish behavior, or any graphic issues, updating video drivers may be very helpful. In fact, we suggest to keep your video drivers up-to-date in any case.
Some links to help detecting which card you have in your system:
---
What's new in FastRawViewer 1.4.11
New features
Faster thumbnail reading, especially on slow media/WiFi
Run program/Pass image in main menu/context menus has been reworked
(Windows only) New Preferences setting: Interface - Set the main menubar colors to match the main window.
New setting: Folders panel - gear menu - Show horizontal scrollbar
(Windows only) A warning is issued if 'pass image to external program' requires privilege escalation.
Bugs fixed
WB presets handling for some Canon cameras was broken (5DmkIII and 5DmkIV were affected)
Lens ID data was incorrectly parsed for some camera/lens combinations.
EXIF data display above thumbnails was positioned incorrectly for large thumbnail sizes.
Grid/Filmstrip text font size was selected incorrectly on large thumbnial size decrease (e.g. 800 pix - 200pix).
What's new in FastRawViewer 1.4.10
Camera support
Fujifilm XF10, X-T3, GFX 50R, DBP680
Gitup G3 duo
Nikon Z7, Z6, P1000, D3500
Old Leaf cameras with RGB TIFF output (Cantare, DCB2, Volare)
Panasonic LX100-II
Sony HX99
New features
New 'reset image rendering to defaults' action/hotkey.
It is possible now to clean recently used lists (files, visited folders, copy/move targets).
The search for external editors (known to FastRawViewer) has been revised.
More flexible control for files copied/moved with given file type.
Zoom in/out limits are now customizable.
Bugs fixed
When copying multiple files set (e.g. RAW+JPG+XMP) with verify after copy turned on, only checksum for RAW file was checked.
Some combinations of Background Gray Level and Selected files background settings resulted in wrong selected file background and/or invisible EXIF data string.
See detailed changes list in our developer blog post.
What's new in FastRawViewer 1.4.9
Camera support
Leica M10-P
Sony RX100-V-A
Minor changes
When using global Rejected folder, the name of the folder is displayed in the "Move to Rejected" confirmation dialog.
New hidden setting ForceWindowSizeRestore: if set (via script), then main window size and position will restore from setting for the second time after main window made visible.
New hiddend setting DNGDefaultCrop: if set (via script UseDNGDefaultCrop), FastRawViewer will apply DefaultCropOrigin/DefaultCropSize tags to DNG files. Default is off.
Bugs fixed
Standard selection mode: current image was reset on window focus change
When using the global Rejected folder, the name of the local subfolder was displayed in the settings instead.
Fixed a bug in processing Minolta (MRW) and Sony's oldest cameras (A100 ARW) files, which did not allow to display these files.
What's new in FastRawViewer 1.4.8
Minor changes
EXIF Display: "File Modified" date is now displayed using system default (short date) locale
Edit date range dialog (Sort/Filter panel): OK is now 'default button', and it is applied by Enter key
Bugs fixed
Mac: fixed problem with Fujifilm cameras 'out of memory' error
Edit date range dialog (in Sort/Filter panel): Incorrect date range status was not updated when 'to' date was changed
Files stats count was not updated if edited date range selects zero files.
What's new in FastRawViewer 1.4.7
New JPEG handling modes (both embedded in RAW and JPG files), resulting in ~2x sequential RAW files browsing speed-up
Processing of RAW data on GPU (videocard): better demosaic, faster editing.
Interface drawing speed-up
Lot of minor changes
Lot of minor bugfixes
Camera support: Fujifilm X-T100, Pentax K1-II, Sony DSC-RX100VI
See detailed changes list in our developer blog post.
What's new in FastRawViewer 1.4.6
Quick copy-move to subfolder feature
Read-only/locked files support
lot of minor additional features, several bugs fixed
See detailed changes list in our developer blog post.
What's new in FastRawViewer 1.4.5
Two minor features/preferences settings to ease Load selection from file
Several minor bugs fixed
See detailed changes list in our developer blog post.
What's new in FastRawViewer 1.4.4
New features
Combining the 'Single File' and 'Batch' keys
New XMP Labels options added
New Zoom options added
Batch IPTC/XMP Title/Description editing
Skipping several files using a single keystroke
Menu - File rearranged and Reference dialog reworked
Camera support
Canon EOS M100, G1 X Mark III
Fujifilm X-E3
Nikon D850
Olympus E-M10 mk III
Panasonic DC-G9 (standard resolution RAWs only, high-res mode is not supported yet)
PhaseOne IQ3 100Mp Trichromatic
Sony RX10-IV, RX0, A7R III
See detailed changes list in our developer blog post.
What's new in FastRawViewer 1.4.3
New features
Hotkeys/Menu actions to reload current opened file/current folder.
More flexible handling of 'Write XMP blocks into JPEGs'
Camera support
Canon 6D Mark II, 200D
Fujifilm X-A10, Updated color profile for Fujifilm X-A3
Gitup GIT2P
Leica TL2
Nikon D7500
Bugfixes
Adobe-formatted contrast setting was recorded to XMP files only if the exposure setting was also changed.
External JPEGs were not being used as thumbnails (for files that don't have an embedded preview) even if the corresponding setting was turned on.
See detailed changes list in our developer blog post.
What's new in FastRawViewer 1.4.2
New features
Custom zoom value (in the range form 10 to 1000%)
Keyboard combinations for easy access to Folders / Favorite Folders / Filmstrip / Grid panels
Camera support
Olympus TG-5
Panasonic TZ90 (preliminary support)
Bugfixes
Some atavisms from version 1.3 were removed
Some interface reactions to changing sorting order were corrected.
See detailed changes list in our developer blog post.
What's new in FastRawViewer 1.4.1
Bug fixed: exposure/WB adjustment made to file was not shown if you return to this file in same session (XMP was recorded OK, but not refreshed within FRV).
What's new in FastRawViewer 1.4
The sorting and filtration of files in folders has been massively overhauled;

File filtering:

by XMP Rating and Label
by EXIF Date (shot date)
by Filename (mask, substring, regular expression)
by file selection state.

Save, Cancel and Restore filters
File sorting

by Filename (naturally or alphanumerically)
by File type (extension)
by File modification time
by File size
by Shooting date (EXIF Timestamp)
by XMP rating

Touchscreen support
Over- and Underexposure display has been improved and refined

Detecting clipping point for overexposure zones display depending on camera's Make and Model (not available for all cameras)
Adjusting underexposure limit detection based on camera ISO setting

Improved synchronization of XMP changes between ACR/Lr and FRV
Option to verify data after file copy
Folder tree editing

Create subfolder
Rename folder
Delete folder

Drag-drop into the folder tree (including Favorite folders):
Drag-drop files into other applications
Selecting the position (below or above thumbnails) and detail of the EXIF data to be displayed in Grid mode

Abridged exposure data (shutter speed and aperture)
More complete data (shutter speed, aperture, ISO, exposure correction)
Date & Time (from the EXIF data)
Camera name
See detailed description of new features in our blog post FastRawViewer 1.4 Release
Camera support
Canon EOS 77D, 800D
Sony A9
Better support for Leaf Credo cameras
Bugs fixed
When the program was started with the histogram panel switched off, the window for the histogram had the wrong size at the first display.
Mac: retina detection code changed. Retina now detected on start (properly!) and on monitor connect/disconnect.