Download FastRawViewer
FastRawViewer 1.7.4
The update is FREE for all registered users!
See What's new and changed below
Download Links
---
In FastRawViewer 1.7.4 we added:
Support for
Raspberry Pi HQ camera support, improved support for RPi V1/V2 cameras
Improved color data for Fujifilm X-E4 and GFX100S
Minor changes and bugfixes
Read more about FastRawViewer 1.7.4 release in our blog.
In FastRawViewer 1.7.3 we added:
Support for
Sony A1 (ILCE1)
Preliminary support for Fujifilm X-E4 and GFX100S
Minor changes and bugfixes
Read more about FastRawViewer 1.7.3 release in our blog.
FastRawViewer 1.7.2 fixes two annoying bugs:
On macOS 10.12+ keyboard shortcuts may stop working after batch operation of intermediate length (more than 5 files, but less than one second)
On Windows: FastRawViewer may crash while trying to open file that could not be opened (e.g. prohibited by permissions settings, or locked by another program).
In FastRawViewer 1.7.1 we added:
Support for
Fujifilm X-S10
Leica SL2-S
Nikon Z6 II, Z7 II
Minor changes and bugfixes
Read more about FastRawViewer 1.7.1
---
User Manual

There is a single FastRawViewer Manual (in pdf format) for both Windows and Mac OS X versions (the manual comes with the installation, too).
Quick-Start Resources
Use this to acclimate yourself to the interface, tools (RAW histogram and statistics, over- and underexposure indication, focus peaking, exposure correction, white balance, ratings, labels, titles, descriptions etc), Preferences, file handling and navigation, and get an idea as to how to customize the FRV setup for your preferred workflow.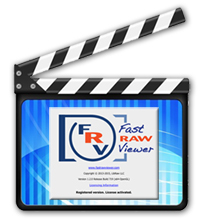 Workflow Tutorial
Below are several resources that can be used to acquaint oneself with the RAW workflow that we have developed, integrating FastRawViewer into a process that starts at the memory card and goes up to the RAW converter.
They can also help one recognize and analyze operator errors so as to improve shooting discipline.
---
Minimal System Requirements
for Mac OS X
FastRawViewer for Mac OS X requires any ARM(M1) or Intel-based Mac (excluding very old 2005-2006 models based on 32-bit CPUs:  Core Duo and Core Solo) with Mac OS X 10.6+ installed. We recommend a video card with OpenGL 2.1 support (that's every native Mac video card that works with OS X 10.6). An OpenGL emulator will be used if such a video card is not present in the system; some of the advanced features of FastRawViewer will take significant time to render without hardware support for OpenGL.
for Windows
FastRawViewer for Windows requires a computer with SSE3-compatible CPU (that is, manufactured after 2004) and not-so-ancient video card. It works on a variety of 32/64 bit Windows platforms: XP, Vista, 7, 8, 8.1,10 (we suggest Windows 8.1/64-bit or Windows 10/64-bit).
FastRawViewer for Windows uses hardware graphics acceleration:
Graphics based on Microsoft DirectX: DirectX 9.0 is required, DirectX 9.0c support or later is recommended
Graphics based on OpenGL - requires a video card with at least OpenGL 2.1 support.
If Your Browsing Speed is Low,
or You are Experiencing Graphics Issues
If you are experiencing sluggish behavior, or any graphic issues, updating video drivers may be very helpful. In fact, we suggest to keep your video drivers up-to-date in any case.
Some links to help detecting which card you have in your system:
---
What's new in FastRawViewer 1.7
(in 64-bit version of Windows, and in regular (not Legacy) version for macOS)
Support for HEIC/HEIF File Formats
XMP support for TIFF, PNG, HEIC/HEIF files
A quick way of switching between Regular and Photo (without "beautifications") view modes
Other/minor changes and bugfixes
See details in our blog post.
FastRawViewer Version History
You can find FastrawViewer version history here.