FastRawViewer 1.5.4 Release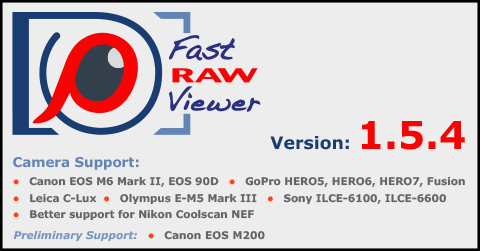 Camera support:
Canon EOS M6 Mark II, EOS 90D
Fujifilm X-A7, X-Pro3
GoPro HERO5, HERO6, HERO7, Fusion
Leica C-Lux
Olympus E-M5 Mark III
Sony ILCE-6100, ILCE-6600
Better support for Nikon Coolscan NEF files
Preliminary support: Canon EOS M200
Minor Features / Bugfixes
Meets Apple notarization requirements, compatible with macOS 10.15 Catalina.
Preferences - File Handling - File formats - Default image to display: Same as previous: behavior changed:
current image type is saved on program close/recalled on new launch.
current image type will not be reset on folder change or Grid/Single image view change.
Menu - Select - Save Selection to file: file list is always recorded in current sort order.
Change: new hidden bit field configuration parameter DNGPreferLargestImage:

bit 0: if set, FRV will select largest DNG subimage (default: select 1st subimage)
bit 1: if set, FRV will extract Enhanced DNG image if present in DNG file

DXO Photolab3 added to the list of known applications.
Adobe Photoshop 2020 added to the list of known applications.
Cosmetics: Use XMP for RAW files setting renamed to Use XMP
Cosmetics: Clear _Rejected folder menu item get renamed on rejected subfolder name change to reflect actual _Rejected subfolder name.
Bugfix: extended lens data was not displayed correctly for Pentax cameras.
Bugfix: Menu - View - Show Histogram/Exposure stats state was not restored on program restart even if Preferences - Interface - Restore last View settings was checked.
Bugfix: rating stars were not visible if 'display below thumbnail' was selected simultaneously with "Selective/Active item contrast" setting being set to its highest value.
Bugfix: XMP tag tiff:Rotation was used for Grid/Filmstrip even if XMP use was disabled.
Bugfix: Some RGBA and RGB multi-channel TIFFs may have been displayed incorrectly.