FastRawViewer 1.7.1 Release
Spring is Here!
We are offering a 25% discount on all Libraw products and bundles.
Our Special Prices are valid until April 26, 2021.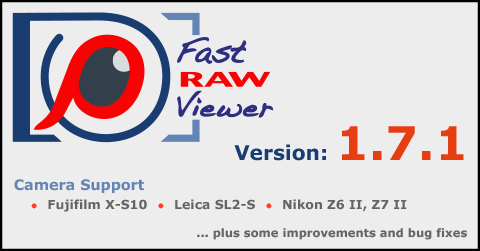 Camera support
Fujifilm X-S10
Leica SL2-S
Nikon Z6 II, Z7 II
Bugs fixes
Fixed XMP sidecar overwrite problem for RAW+JPEG pair in cases when an XMP sidecar exists for the JPEG file
It was not possible to turn off the XMP sidecar overwrite warning in the Preferences
Thumbnail cache for HEIC files: thumbnails were saved without correct orientation data
Thumbnail cache for HEIC files: Canon HEIF thumbnails were saved without proper color space flag
Fixed raw decoding issue with Sony A7S-III files shot in SLOG3 mode
Fixed 10th external editor functionality.
Fixed raw metadata issue with Olympus E-M1/Firmware 4.6 (other Olympus cameras are probably affected too)
Fixed issue with Analyze JPEG Orientation tag.... setting, introduced in v1.7.0
Minor improvements
EXIF Panel: GPS elevation, ambient temperature, and pressure fields were added.
Shortcuts editor: custom program names are displayed (if set) in External editors/Batch External editors lists (instead of executable file name).