FastRawViewer 1.7.3 Release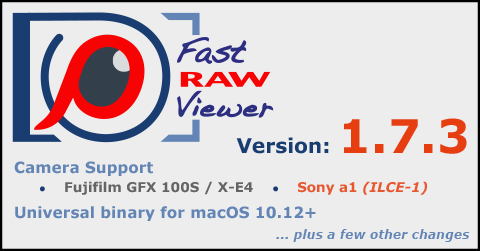 Major changes
macOS Universal binary, that is to say one installer for
Mac/Intel with macOS 10.12 and newer
Mac/Apple Silicon with macOS 11.0 and newer.
Camera Support
Sony a1 (ILCE-1)
Preliminary support for Fujifilm X-E4 and GFX 100S
Minor changes
New setting Preferences - Image Display - Raw image crop mode with the following choices:
Max. visible area (exactly what you think it is)
Std. vendor crop: uses the crop that is recommended by the camera manufacturer
User crop: even deeper crop, for example
DNG: set through the DefaultUserCrop tag (this is how camera crop works in Leica cameras)
Fujifilm: set an aspect ratio that differs from the standard. In this case, RAW is recorded for the whole sensor, the "recommended crop" is unchanged, but there is an additional tag with the Aspect Ratio.
Note: The Crop to manufacturer recommended margins setting has become obsolete and been subsumed by the newer, and corresponds to the Std. vendor crop option.
Windows: the Preferences - Zoom - Use logical pixels for zoom calculation setting is now available in the 64-bit Windows version as well, if the Preferences - Interface - Enable Global Interface Scaling setting is turned on.
The default value of the new setting is "turned off", so physical pixels are used when calculating zoom.
Double-clicking on the header of a panel no longer removes the panel from the dock. If you are used to this method, please switch to using Shift-Double-Click instead.
DNG files created from two-(half)frame Fujifulm files (S5 Pro and similar cameras): the BaselineExposure tag is ignored because the default value used by Adobe DNG Convertor only applies to the second (half)frame and applying it to the first leads to overbrightening (by ~3.5 stops).
XMP Rating/Label are (explicitly) not updated on forced XMP file(s) creation
XMP - Force XMP file creation is renamed to Force XMP file creation for RAW files. The effect of this setting has been changed to match the new name.
new shortcuts for folders tree refresh
Menu - File - Reload - Refresh subfolders tree (Alt-Shift-F4)
Menu - File - Reload - Refresh full folder tree (Alt-Ctrl-F4)
Default shortcuts for exposure change/big step are changed from Shift+Alt+(Plus/Minus) to Ctrl+Alt+(Plus/Minus) due to modern macOS incompatibility
macOS: Preferences dialog compactified
Save selection to file: it is now possible to append existing file
Bug fixes
If blue was set as the color for Focus Peaking, the button in the program bottom bar wouldn't light up; and now it does.
If Interface Scaling is not selected in the FastRawViewer Preferences, the (legacy) environment variable QT_DEVICE_PIXEL_RATIO is ignored based on the same rules as the non-legacy QT_*SCALE_FACTOR  .
Application may terminate with out of memory error if non-HEIC file passed w/ HEIC extension