FastRawViewer 2.0.5 Beta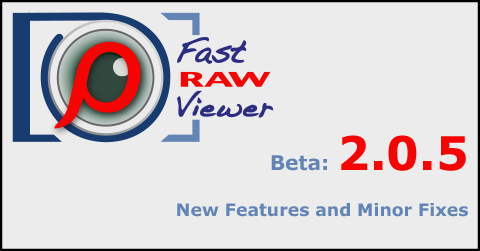 This is a rolling update with some new minor features.
Camera support
Panasonic DC-GH6: preliminary support

Note: DC-GH6 implements new RAW format, so new type of data decoder. This decoder has been tested on all GH6 samples we have, but we're not sure we have complete coverage. So feel free to report any problems related to GH6 support.
New features/minor fixes
Windows: (Re)implemented limited DirectX9/Legacy mode to support very outdated hardware:
no GPU processing
no Area downsample
no 'parallel GPU data upload'
To turn on: use Windows Start Menu -> All Programs -> LibRaw -> FastRawViewer -> Use Legacy GPU mode
To turn off: use two scripts from the same location: Use Modern GPU mode and Set graphics mode to OpenGL or DirectX11
Windows: (re)implemented check for remote desktop session, use WindowsCheckForRemote script to enable this check.
Bug fixed: rating buttons were in inconsistent state after switching from grid to single image mode
Download Links