FastRawViewer 2.0.7 Release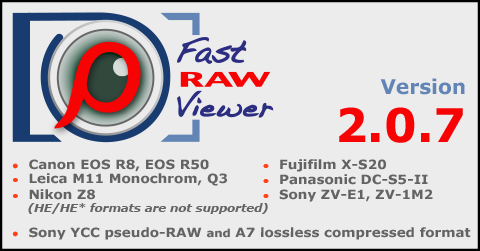 RAW Format support
Sony YCC-format pseudo-RAW support
(Small/Medium lossy compression on Sony A1, A7-IV, and A7R-V cameras)
Sony A7x lossless compressed format: support for latest FW updates.
Camera support
Canon EOS R8, EOS R50
Fujifilm X-S20
Leica M11 Monochrom, Q3
Nikon Z8 (HE/HE* formats are not supported, embedded JPEGs are displayed)
Panasonic DC-S5-II, DC-S5-IIx
Sony ZV-E1, ZV-1M2
Better support for Fujifilm X-H2/H2S/T5 crop modes.
Preliminary camera support
Improvements/Bugfixes
Improved EXIF display for unsupported RAW formats (Sigma X3F, Nikon HE/HE*)
RAW file data limit now calculated dynamically based on max RAW megapixels setting
Default RAW megapixels limit increased to 160 Mpix
Selected files count in status bar was not updated in single file view mode.
Downloads are available at this site download page.