Monochrome2DNG 1.2 Release
We're proud to announce Monochrome2DNG v1.2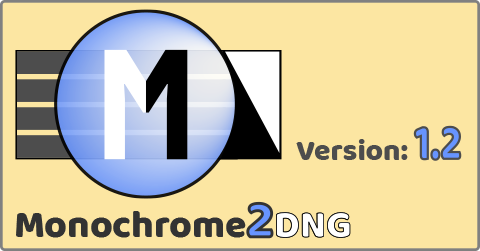 Download Links
The changes are as follows:
Following RawDigger and FastRawViewer, we have moved to Qt 5.12 (aside from Mac/Legacy versions). There don't seem to have been any complaints about the new version, but more testing is required.
LibRaw library has been updated, providing better support for modern/latest cameras.
Bug fixes and completions:

Support for non-RGB previews embedded in input files. These previews are simply copied as is into the output file, regardless of the "Preview" dropdown choice in Preferences.
Detection of black and white files has been improved; specifically, if a file is very overexposed, it will not be rejected as "not black and white."

Drag and drop support on Mac has been improved (as well as launching through "open Monochrome2DNG.app …file list…"):

At the time of launch by dropping files on the icon (or through open…), one can pass more than one file.
When dropping files onto the icon while the program is already launched, history is taken into account (the essence of the problem is that on Mac, dropping several files is in fact many drops of one file each):
If analysis and/or processing has already been done for current files, then the existing list of files is replaced with the list of newly dropped files.
If nothing has been done yet with the existing list, then the list of newly dropped files is added to the existing list.