FastRawViewer 1.5.6 Release
Due to current circumstances, people are trying to stay inside - so there are fewer photo opportunities. Maybe now is a good time to go through your old photo archives!
We are offering a 25% discount on all LibRaw products and bundles.
We are extending our Special Prices until June 15, 2020.
Camera Support:
Fujifilm X-T4 , X100V, X-T200
Partial support for Canon 1DX Mark III: lossless files are (preliminary) supported; for CRAW files only JPEG preview is displayed.
Changes/Improvements/Fixes
Improved screen sharpening
Fixed scrollbar flickering in DirectX 11 graphics mode (Windows / 64bit build only)
Improved scrolling speed in grid mode
Mac: fixed incorrect window position after changing from full-screen to normal window.
Support for 16-bit DNG files w/ deflate (zip) compression
XMP Metadata panel was not updated in Grid mode w/ histogram display turned on.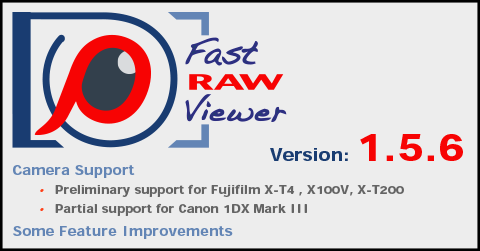 Download links