FastRawViewer 1.5.3 Release
Camera support:
Canon G7X Mark III, G5X Mark II
Fujifilm GFX100
Sony RX0-II, A7R-IV, RX100-VII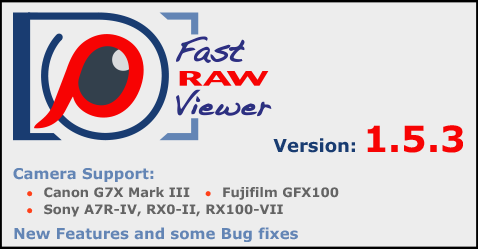 New features
Preferences - Grid/Filmstrip - Keep current thumbnail visible on Grid resize (number 1 on the picture below).
If enabled, Grid view resize (e.g. due to panels on-off) will keep current image in visible area.
Preferences - Grid/Filmstrip - Select-and-advance action changes the last file selection state (number 2 on the picture below).
If enabled, Ctrl-. action will select/deselect the last file in folder.
Limit Zoom Out: the lower bound for the upper limit is now 50%
Fix for some cases when white balance data has been damaged by Nikon Capture.
Bug fixes
In certain cases (for example, when a lens adapter was not communicating the aperture setting to a camera), shutter speed was not displayed over Grid/Filmstrip thumbnails.
In single file view mode, setting the Title/Description for a group of files (using Menu/Select-Batch or context menu for a selected file) did not work as expected.
Fixed a crash for when a file had the .TIF-extension but was in fact a JPEG file
If Hide groups with only one value was set in the Sort&Filter panel options, file counts may not fit into the panel.