Monochrome2DNG version 1.1.3
Monochrome2DNG application has been updated to version 1.1:
Added the ability to change tags indicating the camera vendor (EXIF: Make, DNG: UniqueCameraModel), you can specify the desired value through Preferences - Output DNG settings - Change make tag*.
New option: Preferences - Mark output files as locked(Mac)/read-only(Windows)
New option: Preferences - Set file date to the same as the source file
The settings dialog has been divided into three separate parts (tabs).
The installation image for Mac is verified through Apple Notary service, this is necessary for compatibility with macOS 10.15
Since verified applications are not compatible with Mac OS X 10.6-10.8, a Legacy build has been added for those systems.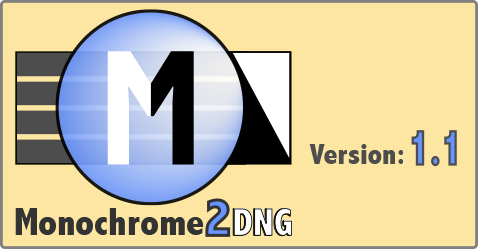 Download
You can download the new version on the program's home page.
---
* We would like to credit Mr. Rainer Öhman for inspiring this feature. Mr. Öhman pointed out that some versions of Capture One converter refused to edit monochrome raw files if the content of the 'make' tag was different from what the converter expected it to be; even different capitalization could cause this. He came up with a solution to edit the 'make' tag using ExifTool. To simplify the workflow for such cases, we added the feature to change the content of the 'make' tag to the Monochrome2DNG application itself.