FastRawViewer 1.6.1 Release
FastRawViewer Version 1.6.1, adding the following:
Support for the following cameras:
Canon EOS R5, R6, 850D
Panasonic Lumix DC-G100/G110, DC-S5
Leica M10-R
Sony A7S-III, preliminary support for A7C
Support for lossy formats for previously-supported cameras:
Canon EOS-1D X Mark III
Fujifilm X-T4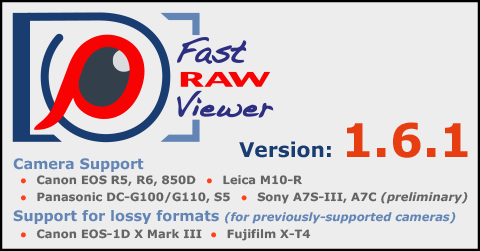 Improvements
Color has been improved for the following Fujifilm cameras: X-T3, X-T30, X-T4, X-Pro3
Embedded HEIF previews are supported (Canon EOS R5, 1DX mk III), implemented in Windows/64bit and macOS non-Legacy builds only.
New Settings and Features
New Setting: File Formats - TIFF Support - Check if .TIF files are RAW.
The point of this is the following: some (old) cameras wrote RAW files with the .TIF extension. Accordingly, FastRawViewer checked each TIF file to see "is this a RAW file," which in some cases leads to false triggers.
This setting organizes the above-described checking procedure in the following way:
Do not check: consider .TIF files to be just TIF files, without suspecting them of being RAW
Known vendors: check the file to determine camera manufacturer, only trust a "this is RAW" verdict if the "vendor / number of colors in the file" combination fits known cases. This is the default, and it should work in 99% of cases
All TIFF files: same behavior as for FastRawViewer 1.5.0 - 1.6.0
New Menu Item/Shortcut: Menu - View - Minimize.
This menu item minimizes program window. Standard shortcut on macOS: Command-M, on Windows: not assigned.
EXIF panel changes:
Right click on EXIF panel allows to copy single value/clicked row/entire table to clipboard,
Image print size display. Print resolution and size units are specified via hidden configuration parameters. See PrintSizeDefaults script for details.
Bugfixes:
Improved handling of corrupted or truncated CR3 files
For macOS 10.14/10.15, drag-and-drop did not work if several files were selected for the operation.
macOS: fixed copy operation for locked files.
macOS: fixed new programs found dialog colors in dark mode
The application might have crashed if filtration by XMP ratings / labels was on, and the user went to FastRawViewer Preferences to disable "Use XMP" (switching off the XMP support)
The RAW file could be mistakenly paired with a JPEG/TIF/TIFF rather than just a JPG
Under default settings of "Check if .TIF files are RAW:", Canon 1D/1Ds RAW files were processed as TIFFs, not as RAW files
If the file name contained several dots in it, the base file name was considered to be up to the first dot instead of the last; this triggered 'xmp name conflict' errors when there were none.
Fixed purple cast when displaying some DNG files in Overexposure display mode
In some (rare/edge) cases, copy/move file(s) to subfolder moves to subfoder in user Picures folder in user profile folder.
Fixed display area for Fujifilm X-cameras 'crop mode 2'