Monochrome2DNG Beta 0.9.2
What's New in Monochrome2DNG Beta 0.9.2
This Beta adds crop options:
Crop mode
Some converters and stacking applications ignore standard soft crop tags, thus "Save cropped area only" option is added.
Crop margins
Helpful if some unusable areas are left in the corners or close to the edges of the sensor; CFA is only partially removed there, for example.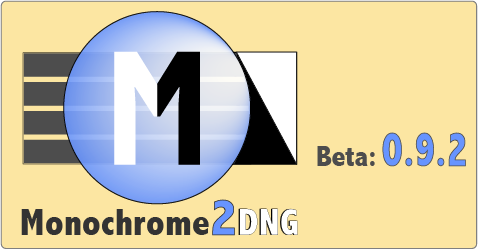 Crop mode – changes the method to be used when cropping for the output DNG files (number 1 on the picture to the right):
DefaultCrop* DNG tags – to set the rectangle to be used by a raw converter (visible area). Output DNG files will contain standard DefaultCropOrigin and DefaultCropSize tags. ActiveArea tag defines the rectangle containing the exposed (non-masked) area of the sensor. All raw data is copied to resulting DNG files, thus the crop is virtual.
Save cropped area only – resulting DNG files will be physically cropped according to the setting for the visible area (taking Crop Margins into account, see the next group of settings), and only the visible area will be copied to DNG files. ActiveArea and DefaultCrop* tags will also be present for compatibility, and they will define the same visible area.
Crop margins (number 2 on the picture to the right) – allows one to set the standard crop for resulting DNG files. It is possible to set the left, top, bottom, and right margins.
Download Links
This beta will expire on December 1, 2018
What's New in Monochrome2DNG Beta 0.9.1
added processing of Panasonic bad pixels
added "Change model string" option to Preferences
Some applications set RAW processing parameters based on the camera make/model. Such applications may ignore the value in the "Samples Per Pixel" tag and continue to treat monochrome DNG files as if they are coming from a non-modified color camera with CFA still in place.
To work around this, you can use the "Change model string" option, to change the name of the camera model appearing in the output DNG file:
No change (default) – change nothing, the camera model name is the same as it is in the source raw file;
Prepend – camera model name is prepended with the user-provided prefix (for example, BW- or Monochrome-);
Append – camera model name is appended with the user-provided suffix;
Replace – camera model name will be replaced with the user-provided string.
Another reason to change the camera model name is to help create individual presets for a converted camera.
You may want to try "prepend", that prevents false model name matching if a converter checks for a partial name match starting from the beginning of the name string, like dcraw does.
What's New in Monochrome2DNG Beta 0.9.0.25
Mosaic suppression: method to be used to suppress grid-like artifacts resulting from non-uniform sensor response:
Method A: faster, but can't suppress uneven grid pattern well enough;
Method B: slower, useful for uneven grid pattern.
Method A was in use with previous versions, and it was the only available there, hence no selector was present in the Preferences. Method A is useful when the grid-like mosaic artifacts are spatially uniform. Some camera/lens combinations, however, may produce spatially non-uniform grid patterns, so we added Method B * to suppress such artifacts too. Neither method involves filtering or blurring, they are based on flat field-type corrections.
Mosaic Pattern, Worst-Case Scenario - Spatially Non-Uniform Grid
Where to Control It?
Read more about application Monochrome2DNG.
Getting in touch with us
This is a beta version, and it's important to us to know your thoughts and suggestions.
* Please contact us with any samples where you still see artifacts (at 100% or less on the screen, or on prints) using Method B.
To contact us, please use: